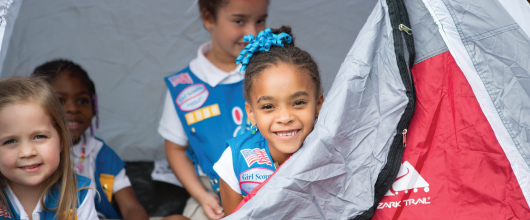 Camp & Properties
Discover the world by exploring!
The outdoor experience is a critical component of Girl Scouting as it encourages girls to try new things, improve problem solving skills, overcome fears, and help one another.   
We're excited to offer three properties that encourage girls to explore the outdoors, and participate in activities like archery, teambuilding games, and environmental education. With all of the benefits of camping, make sure your Girl Scout gets outdoors, participates in environmental stewardship, challenges herself, and more!
Check out our  summer camp program and all three of our properties - in Charlotte, Statesville, and Salisbury - to learn more about each opportunity.
Troop Leaders should familiarize themselves with Outdoor Trainings for Girl Scout Volunteers, so that they know what their Troop is and is not certified to do at camp.

Outside groups will need to complete the Community Rental Agreement and submit it, along with a Certificate of Liability Insurance, to our Customer Care Team before their rental date.

For questions regarding property reservations or summer camp, please email customercare@hngirlscouts.org or call 704-731-6500.