As the result of youth advocacy around the world, the United Nations declared October 11 as the International Day of the Girl. Its mission is "to help galvanize worldwide enthusiasm for goals to better girls' lives, providing an opportunity for them to show leadership and reach their full potential." 
To celebrate this important day, Girl Scouts is rallying girls and those who care about them to do their part to encourage a G.I.R.L. (Go-Getter, Innovator, Risk Taker and Leader) in your life. 
Continue >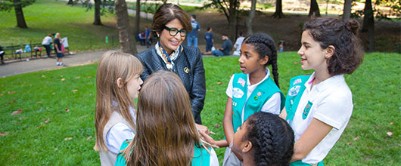 Check out our incredible new PSA, "Lifetime of Leadership," which celebrates notable Girl Scout alums and their amazing accomplishments and is narrated by Girl Scout alum Queen Latifah. The incredible women featured in the video—including U.S. Senators Tammy Duckworth and Susan Collins, Melinda Gates, Dolores Huerta, and Tyra Banks—serve as role models for today's girls and young women, and they powerfully reflect the impact Girl Scouts have and what they are truly made of.
Continue >