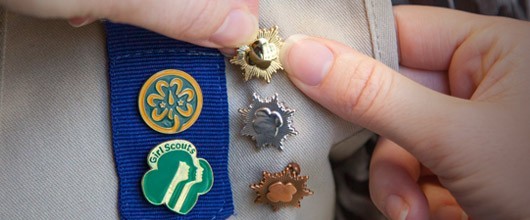 Highest Awards
Every Girl Scout goes above and beyond to make a difference in her community and the greater world. The skills and experiences she gains along the way set her up for special recognition through the Gold, Silver, and Bronze Awards.
All three awards give girls the chance to do big things while supporting issues they care about.
As you earn one of Girl Scouts' highest awards, you'll change your corner of the world—and beyond. The possibilities are endless.
GSUSA COVID-19 Highest Awards Guidelines on Project Extensions 

GSUSA is offering a special deadline extension to December 31, 2020 and will continue to re-assess over the next few months:
Girl Scouts is offering a three-month deadline extension from September 30 to December 31, 2020, for Girl Scouts who are graduating from 5th grade (Juniors who seek to earn the Bronze Award), 8th grade (Cadettes who seek to earn the Silver Award), and 12th grade (Ambassadors who seek to earn the Gold Award) this year. These Girl Scouts will bridge to the next program level officially on October 1, 2020 and, without this extension, they would be no longer be eligible to earn the Bronze, Silver, or Gold Award, respectively.
Girl Scouts should have a project identified, a plan in place, and be ready to take action no later than September 30, 2020 Given that each council handles highest award project tracking, approvals, and recognitions differently, Girl Scouts should follow local council guidelines and procedures.
GSHNC guideline for 12th grade Ambassador Gold Award projects: Project proposals must be approved by the Gold Award Committee before September 30, 2020 in order to use the deadline extension.
Graduating 12th grade Ambassadors should plan to have an adult membership in order to use the extension.       
Money-Earning Activities for Highest Awards
Making the world a better place costs money! Fundraising and money-earning are important parts of the Bronze, Silver and Gold Awards. Besides helping defray the cost of your project, money-earning teaches important life skills such as goal setting, budgeting and team-building. Review the Money Earning Guidelines and submit an online Money Earning Activity Form to get started today!
Scholarships Opportunities!
Girl Scouts, Hornets' Nest Council is pleased to provide scholarships to current high school seniors attending college next fall. Please review the listing of scholarships and the requirements for each.
The online application for scholarships is currently closed. Please check back for 2021 scholarships in November.
For more information regarding scholarships, please contact oldergirls@hngirlscouts.org or (704)731-6500.