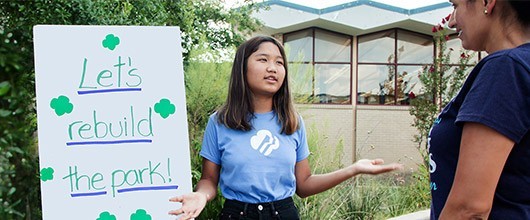 Silver Award Girl Scouts
When Girl Scout Cadettes focus on an issue they care about, learn the facts, and take action to make a difference, they gain the confidence and skills that will catapult them to lifelong success. It all adds up to the Girl Scout Silver Award—the highest honor a Cadette can achieve.  Download the Silver Award guidelines to find out how.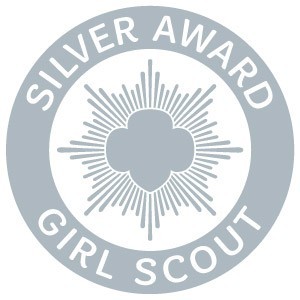 You can pursue your Girl Scout Silver Award if: 

You're in sixth, seventh, or eighth grade (or equivalent)



You're a registered Girl Scout Cadette 
 

You have completed a Cadette Journey
 

Girl Scout Silver Award Steps
 

Identify an issue you care about
 

Build your Girl Scout Silver Award team or decide to go solo
 


Pick your Silver Award project
 


Make a plan and put it into motion
 

Reflect, share your story, and celebrate
GSUSA COVID-19 Highest Awards Guidelines on Project Extensions 
GSUSA is offering a special deadline extension to December 31, 2020 and will continue to re-assess over the next few months:
Girl Scouts is offering a three-month deadline extension from September 30 to December 31, 2020, for Girl Scouts who are graduating from 5th grade (Juniors who seek to earn the Bronze Award), 8th grade (Cadettes who seek to earn the Silver Award), and 12th grade (Ambassadors who seek to earn the Gold Award) this year. These Girl Scouts will bridge to the next program level officially on October 1, 2020 and, without this extension, they would be no longer be eligible to earn the Bronze, Silver, or Gold Award, respectively.
Girl Scouts should have a project identified, a plan in place, and be ready to take action no later than September 30, 2020 Given that each council handles highest award project tracking, approvals, and recognitions differently, Girl Scouts should follow local council guidelines and procedures.
GSHNC guideline for 12th grade Ambassador Gold Award projects: Project proposals must be approved by the Gold Award Committee before September 30, 2020 in order to use the deadline extension.
Graduating 12th grade Ambassadors should plan to have an adult membership in order to use the extension. 
Hornets' Nest Silver Award Training
To learn more, please listen to our webinar training or visit our calendar for in-person trainings.
Silver Award Report Form
Silver Award Guide for Adults
Money Earning Guidelines
Money Earning Activity Form